Attendance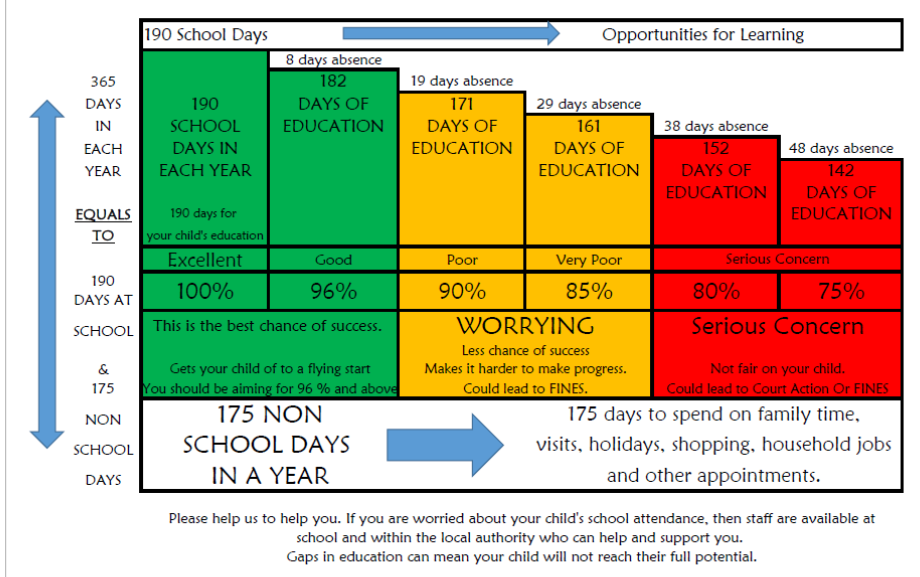 Why Attendance Matters! Every day in school Counts!
Research has proven that there is a high correlation between school attendance and academic performance and success.
Good attendance in school is proven to give children good prospects in life. It also creates good habits for their working life.
Absence from school is often the greatest single cause of poor performance in school and achievement in life.
Why is it so important to attend every day?
Learning is a progressive activity; each day's lessons build upon those of the previous day(s).
Many classes use discussions, demonstrations, experiments, and participation as part of the daily learning activities, and these cannot be made up by those who are absent.
What are the risks of frequent absences?
A child who does not attend school regularly will be unlikely to keep up with the work.
The more pupils miss school, the lower their grades; the lower their grades, the less they want to stay in school.
Some helpful
guidance on
illnesses and when
children should be
off school
The School is not responsible for the content of external Internet sites. We recommend adult supervision for all links to external sites.