Pupil Leadership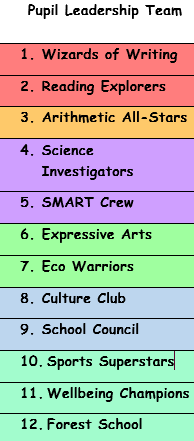 At Leen Mills primary every child is a leader.
From Years 1 to 6 each pupil chooses to join a pupil leadership team with their favourite subject.
As part of the Creative Curriculum each team meets once a fortnight on a Friday afternoon to raise the profile of their subject and take part in enriching and engaging learning.
We are active members of our local community and use this time to visit or welcome visitors into school. If you or someone you know has an active interest, skill or profession within a subject area we would love to hear from you!
Achievements so far...
Reading Rangers: started the school's first ever Newspaper.
School Council: Interviewed a local MP and fund raised for a school Radio Station.
You can listen to their first broadcast here:
https://www.youtube.com/watch?v=1wOkG-8WOlU&t=1s
SMART Crew: Planned a KS2 Games Night which helped to fund x30 new Kindle Fire HD tablets.
Eco Warriors: Started a school allotment and encouraged food waste recycling. Every class now has a Mulching Monster that helps our compost pile grow.
Expressive Arts Team: Have commissioned a local artist to start work on art features around the school building.
Arithmetic Allstars: Hosted our first ever Times Tables Rockstars Day and ran their own stall at the annual Christmas Fair.
Reading Rangers: Have decorated our new school library and hosted our school's first Reading Cafe.
Culture Club : Are busy planning a French Day for the whole school.
Every week there is more and more that is being planned by our pupil leaders. They are taking charge of their own learning and continue to drive our school vision of being 'Curious, Creative and Confident.'
What our pupils say about the Creative Curriculum:
Well-being Champions:
"We like how the teachers listen to everyone and don't ignore anyone. We like how the children do most of the work and learn."
Wizards of Writing:
"I love writing. I have a real passion for it. We are planning on making a school newspaper. I'm super excited!"
Culture and Community Club:
"I enjoy spending time with friends who like the same thing as me."
Forest School:
I always wanted to be in the forest school. I am so happy. Mr Jackson is the best. We make loads of things using tools."
Sports SuperStars
"Sport is my favourite subject so I'm glad I'm with Miss Evans. We made sports kits for Sports Relief Day. We also have looked at sugar in foods and drinks."
For more updates please log onto the Class Dojo App and ask to join your child's leadership team.
Leen Mills Primary School, Leen Mills Lane, Hucknall, Nottingham NG15 8BZ Phone: 0115 953 6688